Music Master Professional provides tight linking of MIDI and notation events for fast and accurate song composition. It allows the user to quickly move from a "blank sheet" to a finished song ready for playing, printing or both.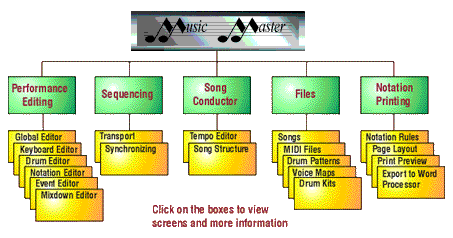 Music Master Professional has many powerful sequencing, audio and notation features to allow you to compose and edit songs quickly and easily:

Sequencing
• Sequencing on unlimited MIDI tracks
• Audio on unlimited Audio tracks (dependant on PC & Audio Hardware)
• Up to 9 songs can be loaded simultaneously
• Replace and overdub recording with loop layering
• Record tempo changes, grades and pauses in real time
• Voice selection by name automatically sets bank and voice parameters
• Synchronize with other devices using MMC, MTC and MIDI clock
• Load and save MIDI files including lyrics in both formats 0 and 1
• Import and export Wave files from audio tracks
• Pre-defined maps and kits for most drum modules and synthesizers
• Double bank switching available for those synths which support this
• Remap songs to other synths supporting to and from GM/GS easily
• Automatic Local Off at start up time if desired
• Seamless delayed locate and play for flexible live performance

Editing
• Editors - global, keyboard, tempo, notation, drum, event, mixdown
• Consistent editing operation across all editors
• Infinite Undo/Redo on all transactions including recording
• Consistent part editing at the global and track levels
• Colour-coded families and note velocities for quick recognition
• Quantize to formula, or groove to another track or preset rhythm
• Note velocity editing includes gain, compression, expansion and limiting
• Balloon text and hint text (including keyboard shortcuts) on all icons
• Floating toolbars for user configuration of screen layout
• Full online context-sensitive help for ease of use with popups on all pictures

Notation
• User can choose from individual parts to a complete conductor score
• WYSIWYG display in standard notation pages with unlimited staves
• Instrument selection auto sets family, transposition & note range
• Concert or transposed pitch for each instrument
• Automated drum notation using selected drum kit(s)
• MIDI meaning for notation symbols eg dynamics, accents
• Plays all structure markings eg repeats, codas, fines
• Full automatic chord analysis with guitar chord chart
• Fully scalable for conductor scores (20% to 200%) in 1% increments
• Export notation to other page layout software

System Requirements
Computer: Windows XP, Vista, 7 or 8
Printers: All Windows compatible printers
Music Master Professional Sample Notation
Music Master Professional Questions and Answers

Datasonics has generous site licence prices for educational institutions,
and upgrade and crossgrade prices.